****40' x 40' Extra-Heavy-Duty Frame Tent SuperSale (Single & Twin Tube Hybrid Aluminum)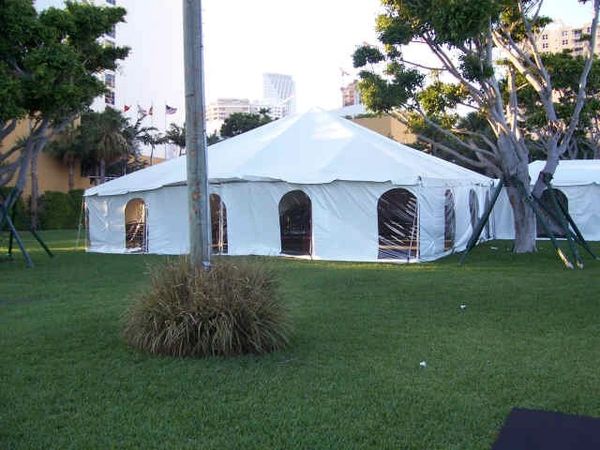 ****40' x 40' Extra-Heavy-Duty Frame Tent SuperSale (Single & Twin Tube Hybrid Aluminum)
This frame tent is a commercial-quality twin-tube frame tent not to be compared with less expensive single tube frame tents
. 
This is one of our most popular tents for large-size gatherings, such as, wedding receptions, sweet fifteens/sixteens celebrations, construction sites, church revivals, company gatherings, fireworks sales, Christmas tree sales, large boat covers, carport for large vehicles (holds up to 12 cars or small trucks), patio furniture or swimming-pool cover, etc. No tools are required for assembly.
(Click on Blue Arrow Below)
1.   Above price includes the 

complete anodized aluminum tent frame

 (similar to that shown in the pictures) containing 2 inch anodized aluminum O.D. tubing, 18/19 Oz. waterproof, 1 or 2-piece White vinyl top/cover with sun blockout and 

flame and mildew retardancy

. Also included are a 

storage bag

 for the top/cover, 

anodized 

aluminum adjustable legs (7 Ft. to 10 Ft. high),

 and all other required 

galvanized steel

 frame fittings

 (fittings are 1-3/4 inch O.D. galvanized steel)

.
1. Sidewall curtains are not included in the basic advertised tent price. Stakes and ratchet straps may be added above as an option. 
2.  Tops/Covers also includes the following features for the best of quality:
a. Heavy-Duty 

18/19 Ounce White Vinyl Top/Cover

 
b. Double-Ply Vinyl Patches at peak of top/cover for added reinforcement and protection at crown area
c. Extra-Thick Vinyl along Valance perimeter for added protection when pulling on straps
d. Stainless Steel buckles on straps
e. Supreme Velcro overlaps at ends
f. High-Strength Denier Rating
g. Top/Cover includes bag for storage
h. *****************************************
i. ******************************************
j. 2-piece expandable top is standard
k. flame certification patch meeting Fire Marshall Codes on underside of covers
l. Reinforced stitching throughout tent
m. polyester side-curtain (sidewall) rope securely reinforced around tent perimeter
n. heat-sealed construction throughout tent top/cover with stitched reinforcement
3. Additional discount for first-time party-rental customers or businesses.
4. Special House discount for all customer-combined-orders exceeding $10,000, exclu

ding tax.
5. Even though Florida Tent Supply will typically contact you within 24 hours of placing a quote order on this website, you may also 

contact us by e-mail or phone

 prior to that. Carpa Supply will answer any questions that you may have and quote you the 

lowest available shipping rate

 for your desired order. Once we have agreed on all of the details and pricing, then you, and only you, may proceed with the purchase. At that time we can discuss the payment options with you.
Product Description



Traditional-Style Tents



This classic tent style is used the most throughout the industry. 

No tools are required for assembly

. Standard tops/covers are 

18/19 Oz. White Vinyl

 that contain 

sun blockout

 and are also 

flame and mildew retardant

; tops/covers are also available in a variety of other colors and stripe designs that include 

red

, 

blue

, 

green

, and 

yellow

. 

Clear (transparent) tops/ covers, non-standard and other custom colors, fabrics, and designs are available for an additional charge

. The tops/covers are designed to attach to the frame with straps and 

stainless-steel buckles

 along the inside tent perimeter

.